Carol at Book 'Em 2010 in Waynesboro, VA

October 17, 2010


Carol spent the October 16 weekend at Book 'Em in Waynesboro, Virginia. She was accompanied by her friend and dog mystery writer Jean C. Keating. Jean's Papillion side-kick "Sherlock Bones" also joined them.
Carol gave a presentation called "2012 and the End of the Word" in the auditorium. People in the audience included a woman from Canada. Carol was also one of four panelists, including P.M.H. Atwater, on the panel "How did these four authors find inspiration for their book?"
While at Book 'Em, Carol met and talked with New York Times Best Selling children's author Sarah Albee. Carol had enjoyed Albee's presentation called "The Scoop on Poop." Among the things Carol learned during the presentation were how knights pooped in armor and how astronauts poop.
The Book 'Em Foundation encourages literacy as a means to help combat crime.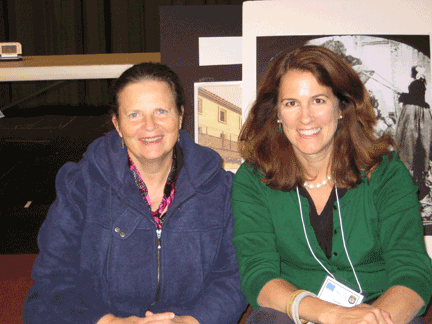 Carol Chapman (left) with Sarah Albee at the 2010 Book 'Em in
Waynesboro.
Sherlock Bones, aka Astra's Coffee 'N Cream.
Photo by Jean Keating © 2004